For the second time in the short history of the firm, Workdynamic Australia has been announced as Employment Law Specialist Firm of the Year at the Australasian Law Awards on 19 May 2022 in a glitzy celebration in the Hilton Hotel, Sydney.
https://auslawawards.com.au/winners/2022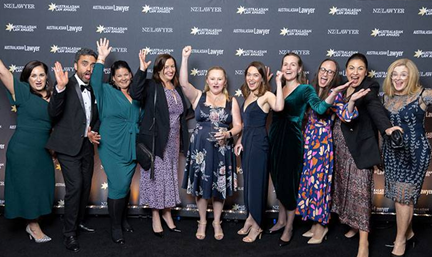 The 2022 Awards judges' commented:
"A fresh and innovative approach to supporting clients across the spectrum of employment matters… depth and breadth of achievements, impressive clients, team and pro bono contributions; The growth trajectory and the success of the model of Workdynamic Australia should be commended"
Similarly, following our previous win at the Awards, comments from the judges included:
'A boutique team with an impressive client base'; 'A strong and growing practice with an impressive client list and a focus on client service'; 'exemplary team spirit and workload'
This is evidenced by our founding principle of flexibility, offering an alternative employment model. Over the years this core value has not changed, and we are proud to lead the way in terms of an inclusive and diverse workplace, with each of our team members utilising some form of flexible work arrangement.
Our team has grown strongly over a number of years, with a naturally diverse assembly of professionals. We do not recruit to a formula, instead focusing on talent and skills, with offices in Sydney and Melbourne.
The metrics of the firm's growth show the remarkable achievement of the firm. With average year on year growth of more than 25% over the last 7 years and a number of high-profile legal panel appointments, the firm is now a formidable commercial player in employment law and workplace investigations.
Success for Workdynamic means not only meeting but exceeding the expectations of our clients. This is evident from our expanding portfolio, with referrals from peers and existing clients making up the vast majority of new business. We also have a significant number of repeat instructions, with 80% of revenue generated from existing clients in FY2021.
Workdynamic Australia is results-focused and commercial in approach. We produce uncomplicated reports even for the most complex investigations, and provide practical legal advice and high-quality work for competitive prices.
Enquiries
Please contact Martina Hegarty for further comment.